As many of you will be aware, we welcomed Ricky Tomlinson and Ralf Little to the Soccer Centre last year for a day of filming as part of their new TV show – Ricky and Ralf's Very Northern Road Trip!
The time has finally come! Ricky And Ralf's Very Northern Road Trip starts on Monday 11th May at 8pm on Gold, and we feature in eposiode 1!
We were delighted to feature in the TV advert for the show – check us out here: TV Advert
The journey begins and ends – where else!? – at Ricky's hometown of Liverpool – but they're quickly on the road on the first leg of their trip, heading to some real Lancashire hot-spots…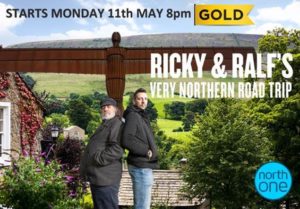 The first stop is Ricky's birthplace, Blackpool, for hi-jinks at some of the best-loved attractions in the town they call the Vegas of the North.The pair also catch up with Ricky's old pal, veteran comic Mick Miller, for the low-down on the entertainment and comedy scene in the north's favourite seaside resort.
This week's journey also takes them to Preston, where they visit a soccer school with a difference, before setting off for the great outdoors in the breath-taking Ribble valley, where they sample the fare at an eatery voted the UK's best dining pub – and see how typical northern entrepreneurial spirit has revived a derelict mill into a thriving community hub and business.