We are delighted to announce that the Shankly Hotel are joining Bowker BMW as our headline sponsors for the coming year!
Shankly Hotel Announces Sponsorship of Sir Tom Finney Preston Soccer Centre
The new £15M Shankly Hotel Preston which is due to open in June of this year, has today confirmed its first major sponsorship ahead of its opening in 2019.
The Shankly Hotel Preston has today confirmed it is to sponsor the Preston based community football charity the SIR TOM FINNEY PRESTON SOCCER CENTRE.
The deal was negotiated following discussions between Christopher "William Shankly" Carline – the Grandson of Bill Shankly OBE – and Peter Mason BEM Founder & Chair of the Sir Tom Finney Preston Soccer Centre.
The sponsorship will see the Shankly Hotel Preston sponsor and support STFPSC to assist in the development of grass roots community football across Preston. The STFPSC was set up as a non profit making community soccer project to provide high quality FA charter standard football and coaching for able bodied and disabled children and adults. The project was the brainchild of Peter Mason – a former Police Chief Superintendent with the Greater Manchester Police and his wife Kathleen Mason, who in 2015 was recognised for her work with the centre as the FA/McDonalds "Volunteer Of The Year."
The sponsorship is a key part of The Shankly Hotel's commitment to the local community across Preston under its CSR (corporate social responsibility) mandate. The ethics and values of the hotel are those very same qualities and traits which the legendary Bill Shankly was renowned for and held dearly throughout his playing and managerial career.
Peter Mason BEM and Chair of the STFPSC said,
"It is a great accolade for the charity, that a new business in Preston, one that carries the name of a football legend, has seen fit to sponsor us.
The Shankly name obviously compliments Sir Tom Finney very well, given their long standing friendship, mutual respect and admiration for each others sporting achievements as footballers and icons of the game. So it is truly fitting that these two legendary names should be at the forefront of supporting grass roots community football here in Preston where it all began for them at Preston North End.  We look forward to a long and successful future working with the Shankly Hotel.
He added; "The trustees of the charity, that include Brian Finney – the son of Sir Tom Finney, are very grateful for the support that the Shankly Hotel Preston and Signature Living are providing to us, support that will allow us to secure our present provision of football coaching to the diverse communities of Preston but also to develop further new areas of provision."
The announcement is the second time that the Shankly Hotel – and family of Bill Shankly – have partnered with the family of Sir Tom Finney CBE, to create a unique association that embodies the spirit of the game and one which celebrates the legacies of these two icons of the game.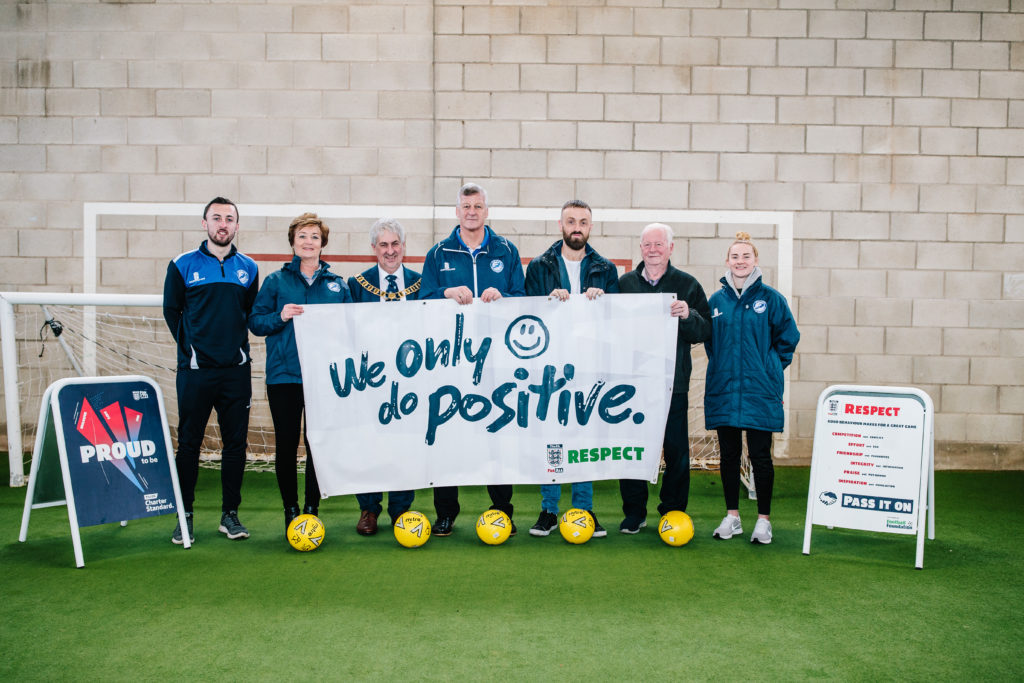 The two families came together last year when the family of Sir Tom Finney agreed to house a permanent football memorabilia exhibition at the Shankly Hotel in honour of the late Sir Tom Finney CBE and Bill Shankly OBE.  This will also allow guests the rare privilege to see first hand, unique items of memorabilia from their respective careers. Many of these unseen items include Sir Tom Finney's OBE and his CBE, the Freedom of the City of Preston scroll and silver casket, his army wartime football medal, testimonial programme, Preston North End shirt signed by Sir Tom Finney CBE and the 1950's boots endorsed by Sir Tom Finney CBE.
Brian Finney, son of Sir Tom Finney and trustee of the Sir Tom Finney Preston Soccer Centre (STFPSC) said;
"To have the Shankly Hotel Preston sponsoring the Sir Tom Finney Preston Soccer Centre is excellent. To bring two iconic Preston footballing legends names together for the good of the community of Preston, can only be good news.
My father and Bill Shankly represented a bygone era of football that was established on mutual trust, respect and admiration for each other as players. Most importantly they were Gentleman and statesmen of the beautiful game.  Football can be a power for good, one that bonds people through camaraderie and sportsmanship regardless of ability or disability. I look forward to this partnership growing to the benefit of 'football for all."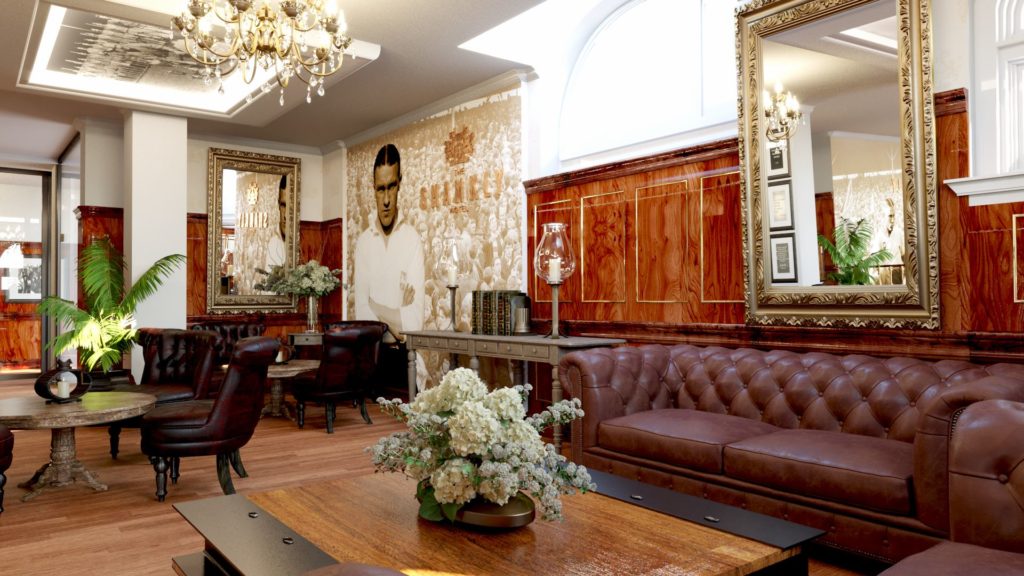 The former Grade II listed post office building which is 114 years old will be transformed into a luxurious 65 room boutique hotel, restaurant, bar and spa breathing new life into this iconic building. Following the hotels announcement of its opening last year it has been inundated with bookings for rooms, weddings and conferences as far into 2023.
The Shankly hotel will feature memorabilia from Bill Shankly's legendary career at Preston North End, complete with photographs, unique items of nostalgia connected to his playing and managerial career.
Co owner of the Shankly Hotel and Grandson of Bill Shankly OBE Christopher "William Shankly" Carline said;
"We are absolutely delighted to be sponsoring the Sir Tom Finney Preston Soccer Centre (STFPSC). This sponsorship is of particular significance to us because of the importance that both Sir Tom and my Grandfather attached to the support of grass roots football in the community.   It was the very essence and embodiment of their respective values that each held dearly, namely that football should be accessible to all regardless of ability, social class, creed, or age.
Supporting a wonderful initiative like the STFPSC is precisely what the Shankly Hotel is all about, family, community and being inclusive. Peter Mason, the trustees and a large team of volunteers  have done truly amazing work with the charity and we are delighted to be supporting Peter with such a brilliant charity and cause. It's also a personal honour to be working with Brian Finney to share his experiences and those of his father "
Carline added;
"Together with Finney family we aim to make the Shankly Hotel Preston one of the top football themed hotels and experiences in the UK creating something very unique for football fans and to continue the legacy that the National Football museum first established in Preston.  For me the greatest honour will be to see the legacy of Sir Tom Finney CBE and my grandfather Bill Shankly OBE celebrated for their achievements and the values that they stood for both as gentlemen and footballers and which truly made football the beautiful game that it is today. "
The Shankly Hotel Preston is due to open to the public in June 2019.
ENDS
For further information on The Shankly Hotel Preston, Signature Living and Chris Carline  please contact
Gerard Franklin / Margaret Murray Frequency Media
Gerard Franklin –  07791 039636  e: gerardfmg@icloud.com or gerard@fmguk.com
Margaret Murray – 07866 360858
e: margaretfmg@icloud.com or margaret@fmguk.com 
Notes To Editors 
Sir Tom Finney CBE
Sir Thomas Finney, CBE (born 5 April 1922, Preston, Lancashire) is a former English footballer, famous for his loyalty to his league club, Preston North End and for his performances in the English national side. Sir Tom was also the President of Kendal Town FC. He was appointed an Officer of the Order of the British Empire (CBE) in the 1961 Queen's New Year Honours and a Commander of the Order of the British Empire (CBE) in the 1992 Queen's New Year Honours and was knighted in the 1998 Queen's New Year Honours
The Sir Tom Finney Preston Soccer Centre – STFPSC
The Sir Tom Finney Preston Soccer Centre (STFPSC) is a non profit making community soccer project and charity set up to provide high quality FA Charter Standard football and coaching for able bodied, disabled children and adults.
Originally set up in 1999 by its founders Peter Mason BEM and his wife  Kathleen Mason, the ethos of the charity was to get children off the streets on a Saturday morning and give them somewhere to go. Due to its phenomenal success the charity has grown significantly and widely expanded from its original remit.
The Preston Soccer Centre has been able to offer its services to a huge range of children and adults and closely works in conjunction with Lancashire Police, Lancashire Football Association and the community departments of professional football teams such as Everton FC. The centre also works with  children and young people's groups, local councils and an ever-growing network of schools and nurseries. Most recently that remit has expanded to include weekly football sessions and coaching for the refugee and asylum seeking communities, both adults and children.
Recognising the outstanding work that Peter and his wife Kathleen had done with the charity Sir Tom Finney agreed to become President in 2005 and both the centre and charity became known as the "Sir Tom Finney Preston Soccer Centre." Sir Tom was an active President at STFPSC with weekly visits to the centre and was regularly seen kicking a football around the pitch well into his 70's.
2006 saw the introduction of the Young Coaches development scheme. The charity saw scope to provide young people, from the age of 12, with a skill which they would be able to utilise as a career opportunity by providing them with their Level 1 and Level 2 FA Coaching qualifications.
Originally offering football coaching to able-bodied children aged 4-16, the charity expanded in 2007 and began offering disability football for 4-16 year olds. In 2013 it added a provision to include coaching for disabled adults.
During 2014 as part of Sir Tom's legacy, the STFPSC in partnership with UCLAN and the LFA became a 'HUB Club' and developed the Sir Tom Finney Football Club, entering teams in local leagues and regional competitions.
The football club provides the opportunity for able-bodied and disabled adults and children/youths to play competitive football, the majority of whom at that time, were not participating in competitive sport. The STFFC now has 27 competitive teams including open age men, women and disabled men plus teams from U7 to U15.
In 2015 STFPSC introduced the Soccer Kicks programme to provide football education to children from the age of three, and the introduction of a new sessions working with disabled adults and the homeless. The Soccer Kicks programme, run in conjunction with nursery schools, primary schools, after-school clubs and local councils, works to introduce sport and movement to children from the age of three. The charity believes that instilling a culture of exercise from a young age aids the development of the children as they progress through education. The Soccer Centre focuses on introducing and improving colour recognition, coordination and general movement skills, such as jumping, alongside developing social skills and instilling the importance of a healthy diet.
The STFPSC and the STFFC are run solely by volunteers. To provide the opportunities on offer, well over a hundred volunteers give up their time. The volunteers are drawn from the local community and UCLAN students. All are CRB qualified and are supported both financially and physically with mentors to develop as coaches/volunteers to meet their individual goals.
The mission of the STFPSC is to provide football coaching to children, young people and youth players from all communities – including the disabled and refugee/asylum seeking communities  – across the City of Preston in a safe, fun and controlled environment – regardless of ability, disability, sex, colour, race or religious belief.
To provide ongoing professional coach education and developmental training for people over the age of 12 who wish to become involved with youth development, soccer coaching and community development.
To assist the young people in developing their life skills by enhancing their multi-cultural awareness, self-discipline, and team spirit.
To abide by the rules, guidelines, and code of conduct of the Football Association for Youth Development and Mini Soccer.
To provide an opportunity for all to enjoy sport – regardless of ability.
For more information www.sirtomfinneysc.co.uk
William "Bill" Shankly OBE
William "Bill" Shankly OBE was a Scottish football player and manager and arguably the greatest football manager of all time.
Shankly came from a small Scottish mining community and was one of five brothers who played football professionally. He played as a ball-winning right half and was capped twelve times for Scotland, including seven wartime internationals.
He spent one season at Carlisle Utd  before spending the rest of his career at Preston North End with whom he won the FA Cup in 1938. His playing career was interrupted by his service in the Royal Air Force during the Second World War. He became a manager after he retired from playing in 1949, returning to Carlisle United. He later managed Grimsby and Huddersfield Town before moving to become Liverpool manager in December 1959.
Shankly took charge of Liverpool when they were in the second division and rebuilt the team into a major force in English and European football. He led Liverpool to the Second Division Championship to gain promotion to the top-flight First Division in 1962, before going on to win three First Division Championships, two FA Cups, four Charity Shields and one UEFA Cup. Shankly announced his surprise retirement from football a few weeks after Liverpool had won the 1974 FA Cup Final having managed the club for 15 years, and was succeeded by his long-time assistant Bob Paisley. He led the Liverpool team out for the last time at Wembley for the 1974 FA Charity Shield. Shankly retired at the age of 60 in July 1974, he was awarded the OBE later that year.
Through his incredible work and success at Liverpool Shankly had laid the hallowed foundations which his successor Bob Paisley and Joe Fagan were able to build upon by winning an unprecedented seven league titles and four European Cups in the ten seasons after Shankly retired in 1974.
The Shankly Hotel & Experience  
Liverpool & Preston
Bill Shankly OBE is highly regarded as one of the greatest football managers in history as his illustrious career resulted in significant professional achievements. The Shankly Hotel is now regarded as one of the UKs top football themed hotels winning multiple awards and rave reviews in the National press. It is the only hotel in the world built as a living legacy to the footballing legend. His spirit lives on through his family who today not only co own the hotel with Lawrence Kenwright,  but also take active roles in the hotels day to day operations and running including personal guided tours through the hotels Shankly museum experience by his Grandson Christopher William Shankly Carline.
It is also the only hotel to have a football museum and experience dedicated to his career. You can view everything from Shankly's original LFC contract, his telegram from Neil Armstrong, the key to The Shankly Gates, the infamous "This Is Your Life" red book. No place on earth offers such a unique look and insight into the legendary manager's career.
The Shankly Experience is a tribute to a respected football icon, the likes of which will never be seen again. Memorabilia can be viewed within the floor, walls and ceiling, so you can enjoy a delicious meal surrounded by genuine Shankly memorabilia.
"Inside The Shankly Mind" is a unique area within the hotel reception has been set aside as a place to relax and enjoy some of the letters penned by Shankly during his managerial career and then later in life as a sports pundit alongside the typewriter he used for his correspondence.
"The 96 Memorial Wall" is a poignant and fitting tribute to the 96 fans who lost their life during the Hillsborough tragedy on April 15th 1989. This wall features the now famous image of the two children wearing the number 9 and 6 shirts and holds 96 eternal candles each one engraved with the name of a person who who lost their life on that day. The wall was official unveiled by MP Andy Burnham and families from the Hillsborough Family Support Group, including its chair Margaret Aspinall, and Christopher William Shankly Carline, director of the Shankly Hotel and Bill Shankly's grandson.
Each room in the hotel features a story from someone who met Shankly throughout his life, these range from stories from close family members to people who played with him or for him,  neighbours or just people who were influenced by Bill Shankly at some point in his life. Many of these stories have been told for the first time on camera and have been captured and archived for future generations to enjoy. A video of these stories can be viewed by accessing the QR code displayed on each hotel room door.
The Shankly Museum is a real show-piece of the hotel, a vast array of memorabilia – kindly donated by the Shankly family – is a treasure trove of footballing history. Many of the artefacts on display have never been seen before while others will be recognisable from iconic images from sporting events over the last 50 years.
The museum also houses a collection of letters sent to Bill Shankly throughout his career offering an insight into what the people of Liverpool and wider sporting community really thought of the man.
The Tactics Wall is an area of the museum which houses a collection of handwritten notes by the man himself covering everything from scouting to match tactics and reports. One of the visual aspects to the museum includes a huge 30ft video wall which welcomes visitors in the reception area of the Shankly Hotel. Featuring moving images, quotes and iconic photos from the life and career of Bill Shankly.